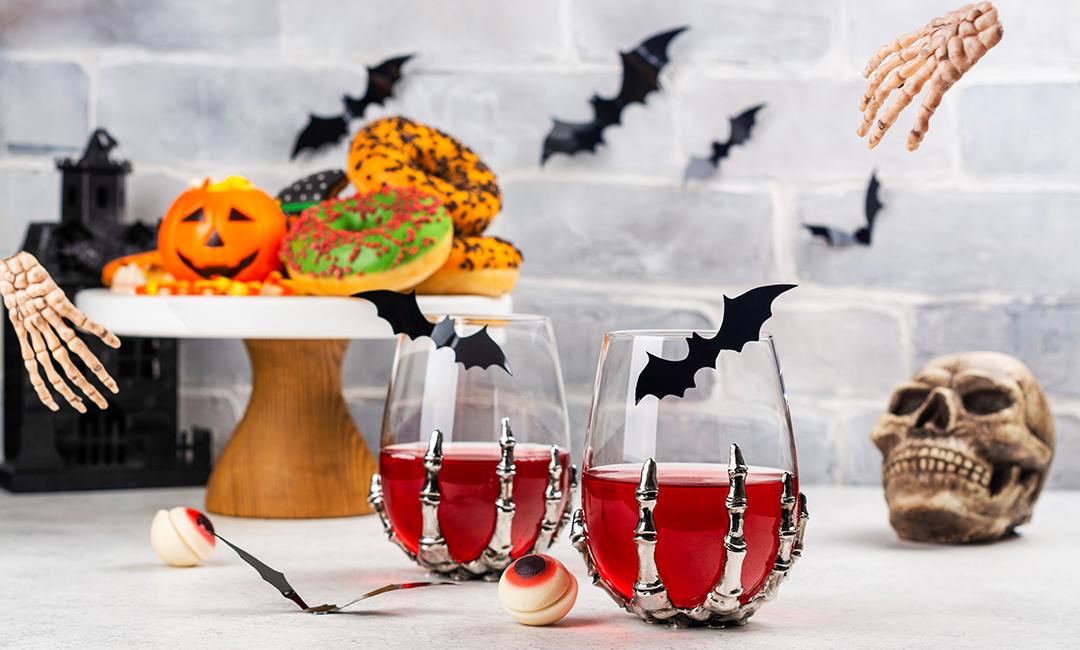 It's time to add some boos to your booze! You see that bar cart sitting over there all lonesome in the corner? We think it could use some skulls, maybe some spiderwebs, a couple of pumpkins and some candles. So we explored the wonderful world of Instagram to bring you a roundup of the best Halloween bar carts we could find to hopefully inspire your spooky styling! Follow, save and have fun!
Go a little batty with your bar cart! All the Halloween essentials are here: skulls, a skeleton, a broom, bats, a hand… The longer you look at this photo, the more little Halloween details you'll find!
#SpookySzn hasn't started until the skull garland is hung up. We especially love the bats flying around in the jar as an extra spooky touch.
We're here for all the boos (and tricks and treats)! Who said a bar cart can't be a party? We love all the festive decorations around this cart.
The subtle (but significant) Halloween touches on this bar cart are… *chef's kiss.* You can also click through on the post for tips on how to DIY your own art for your bar cart!
Let's take a closer look at this adorable bar cart, shall we? The hat with star cut-outs! The pumpkin planters! The creepy candlesticks! The crows! The skull plate! It all comes together so perfectly.
Ooh, fun tip: put spiderwebs over the liquor bottles! And then add spiders, of course. We also love sticking to the classic black, orange and white color palette.
We love a good Hocus Pocus quote. We also love that eyeball garland, the pumpkins, that skeleton, the bottles of witches brew and all the spooky touches!
Eat, drink, be scary and decorate! So many fun tricks and treats on this bar cart.
We're head over broomsticks in love with this chic, gothic twist on the Halloween bar cart. We especially love that gold skeleton Champagne flute.
That cute little ghost is killing us! We love it so much. And the only thing better than this fun, spooky bar cart? This recipe for a fall twist on the Aperol Spritz!
Spiders and poison and skulls, oh my! And booze… Let's not forget the booze.
Witch better have my candy! Also, can we talk about that caution tape over the mirror? Genius.
We know that we should be afraid of ghosts but we love those cute ghosts hanging out on the bar cart! And we love everything else about the cart, too.
A witch's broom next to the witch's brew is the perfect touch for this Halloween bar cart. And do you see those beakers full of potions? We're totally stealing that idea.
Floating witch hats make this bar cart extra spooky and picture-perfect! You can probably snag some fishing wire and witch hats at your local craft store for under $20, too.
We're dying over the spooky touches added to this bar cart, like the little ghost figurines, skeleton wine glasses, pumpkins, bats and "Boo" sign. Having a skeleton bartender doesn't hurt, either.
What's black, purple and chic all over? This bar cart! We love the colors used for this cart.
Ready to get started on decorating your bar cart for Halloween? Check out these Cute Halloween Decorations from Zulily!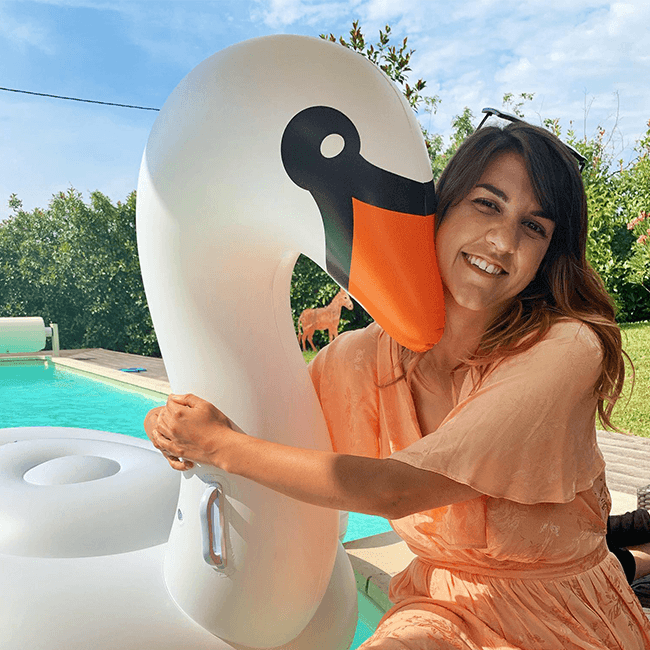 Jenna De Stefano is a writer and amateur french fry critic living in Los Angeles. She loves cooking big breakfasts, taking photos of her dog Huck, and stalking home decor accounts on Instagram.