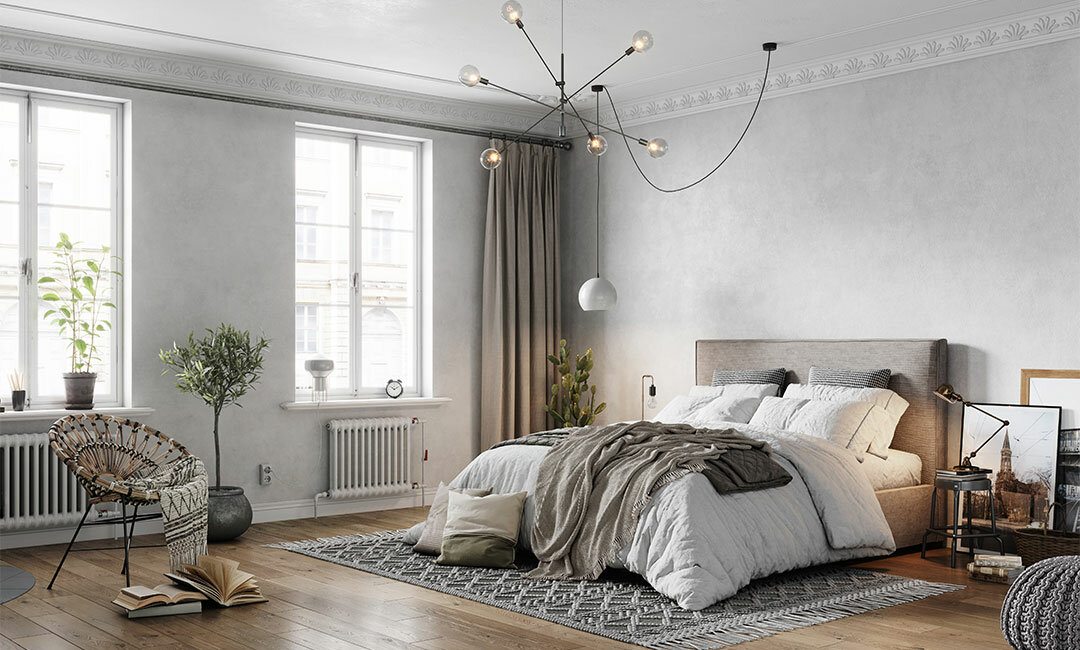 Disclosure: The bedroom styling pieces below contain affiliate links, which means we'll receive a commission if you click on a link. We hope you like our picks – click or tap the titles to shop!
Your bedroom should be a sanctuary, a place to unwind and recharge after a long day. But if your space isn't feeling as cozy or cohesive as you'd like, it might be time to give it a little makeover. Whether you have a small or large space, these 5 tips will help you create a space that feels like a true sanctuary.
1. Layer on the bedding
One of the easiest ways to add texture and depth to your bedroom is by layering on bedding. Start with crisp, white sheets, then add a duvet cover or quilt in a complementary color or pattern. Top it off with a few decorative pillows and a cozy throw for a look that's both stylish and inviting.
This belk Highline Bedding Co. 3-Piece set is a perfect way to complete any bedroom. The elevated neutral set makes layering super easy and adding texture will be a breeze.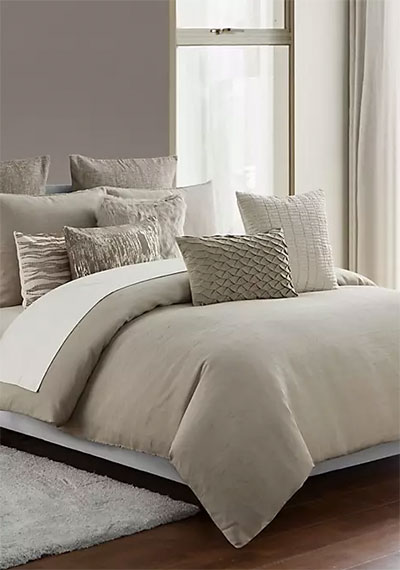 belk, Highline Bedding Co., 3-Piece Madrid Antique Gold Set, $322
2. Add an area rug
An area rug can instantly transform a bedroom, adding warmth, color, and texture to the space. Choose a rug that's large enough to anchor the bed and extend a few feet beyond the sides and foot. And don't be afraid to mix and match patterns, as long as they complement each other.
This shag area rug from Rugs USA is a great compromise between practicality and style. It's basic but is a simple way to add texture and add warmth to a bedroom.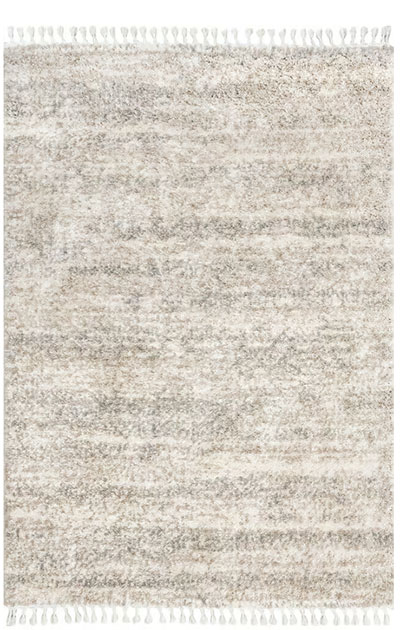 Rugs USA, Ivory Shaded Shag with Tassels Area Rug, $75 – $1,595.70
3. Hang some artwork
Blank walls can make a room feel sterile and unwelcoming. Add some personality and warmth to your bedroom by hanging a few pieces of artwork. Choose pieces that you love and that speak to your personal style, whether that's abstract, photography, or something more traditional.
This abstract, 3-piece floater frame set from Wayfair is a great and affordable way to add some subtle color to your bedroom. Available in a variety of sizes, this set will add some much-needed love to any room.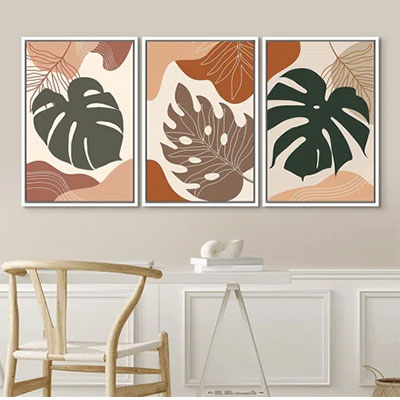 Wayfair, 3-Piece Floater Frame Graphic Art Set on Canvas, $123.99 – $177.99
4. Incorporate lighting
Good lighting can make all the difference in a bedroom. Choose a few different sources of light, such as bedside lamps, a floor lamp, or even some string lights. And don't forget to swap out your lightbulbs for warm, soft tones that create a relaxing ambiance.
This modern and refined floor lamp from Lumens is a great option for any bedroom. Available in 11 colors, this clean silhouette will help compliment your other finishing touches.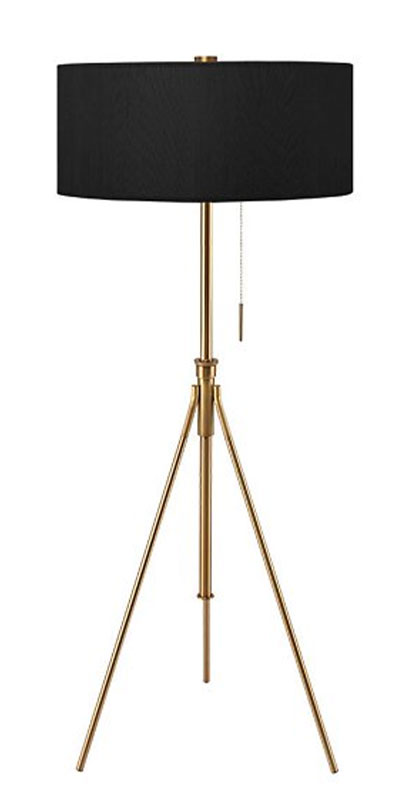 Lumens, Aiden Floor Lamp by Seascape Lamps, $450 $382.50
5. Declutter and organize your space
Finally, one of the easiest ways to instantly pull your bedroom together is by decluttering and organizing. Clear off your nightstands and dresser tops and invest in some stylish storage solutions for items like shoes, jewelry, and accessories. A tidy space will not only look better, but it will also help you feel more relaxed and peaceful.
Add a touch of vintage charm while creating some extra storage space in your bedroom with this Siobhan Nightstand from Ashley Furniture. Available in 3 different shades, you'll definitely be able to find one that suits your bedroom vibe.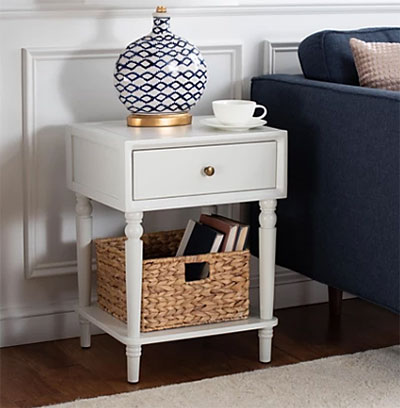 Ashley Furniture, Siobhan Nightstand with Storage, $158.99
Feeling inspired to clean? Here is a spring-cleaning checklist for 7 areas you need to clean ASAP.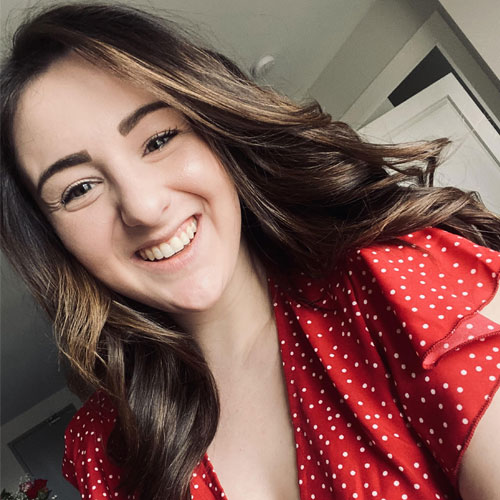 Hayleigh Butcher is a Content Writer & Brand Strategist for Blender Networks. When she's not managing blogs for FitMinutes, The-E-Tailer, Cartageous, InStyleRooms, NurturedPaws & Shoelistic, she's finding a new trail to hike with her dog, Gemma or finding the best new spot in her hometown of Bedford, Nova Scotia for an iced coffee!